International Transport Buisiness
International Air Cargo Requires Speed And Reliability.
We use our unique oversea network to deliver our customer's cargo safely, securely and promptly, and support your logistics strategy with our door-to-door service.

Transport of jewelry, cash, precious metals, bank notes, gold ingots, etc. safely and promptly with our special secured vehicles.
We deliver valuables to stores and exhibition halls internationally and domestically.
On-board courier service; our skilled staff deliver your
valuables or urgent goods to the specified destination
by hand.
We provide a door-to-door service through our overseas network as a Japanese agency of G4S International Logistics.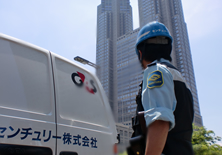 We keep your valuables in a safe, under close supervision, and deliver them on-demand both domestically and internationally. Invisible costs are reduced through inventory control by customers.

We support our customers' business expansion through our strong information network with overseas agencies.
We are expanding our world-wide transport service through our strong network with overseas agencies. Not only do we deliver cargo but we can also offer proposals for business expansion in general to our customers.

Transport package service with insurance for domestic and international exhibits (IJT, IJK, JJF, Basel, Vicenza, Hong Kong, Bangkok, Las Vegas, New York, etc.)
We provide the best procedures and routes according to the exhibits concerned.

Our headquarters are in a Tokyo customs permitted tax-free bonded warehouse so we can inspect jewelry under bond before import clearance, and can also conduct any required business meetings here.
Door-to-door service with 100% insurance via courier services such as FedEx.
Lower transport costs than normal air cargo delivery.
Your package can be accepted any place in Japan.
The procedure is simple. Anyone can apply and use our service after registration. Please contact our IPS Customer Service by Tel 03-5814-3442 or Email ips-century@guard.co.jp.

As well as valuables we also deliver general cargo, both domestically and internationally. We transport the packages safely and promptly through our international network in the same manner as handling valuables.
We deliver packages by sea cargo for those who seek the best cost performance.